Merry Christmas @ MindSay
Related tags
Oh the joys of Christmas time
Christmas is supposed to be a fun holiday, full of happiness and cheer, but this year I'm honestly just not feeling it. It's Christmas Eve, and even then, I don't feel any of the spirit. I hope tonight will be better though, although my family is out of town. I'm just spending time with my mom, my dad, my sister, and a few Jewish friends who have nothing else to do on Christmas Eve. :P (Melissa and Rachel). I haven't made an entry lately just because I get home so tired every night I just don't feel like sitting down and collecting my thoughts, I really need to get back into this blogging deal, and more regularly, that's going to be one of my resolutions for the new year to consistently write down my thoughts on this blog.
Lately since I've come back from Georgia Tech, I've been hanging around home during the day and going out at night time, but now that it's closer to the holiday my mom has been off of work. We went out shopping a few days ago for clothing, since she kept telling me about how I hadn't asked for anything for Christmas. I am going to get some nice new clothing for Christmas, which I could always use, so I'm pretty thankful. .
Christmas is supposed to be a happy holiday, and while I haven't been entirely sad at any given point, I've had my ups and downs, but for the majority of the time I've been very, very happy. I don't know why I haven't been keeping the spirit, but hopefully with everything that happens in the upcoming hours I'll feel the spirit more.
I grew up poor, nbd.
I know people bitch about the salvation army bell ringers that stand outside of stores but I donate to them every trip. I don't care how religious they are or how pushy they seem (they aren't, really. They're just ringing a damn bell). There have been Thanksgivings and Christmases in the past, particularly when we first moved here that if my family was not on a "needy families" list, we would have been too poor to have any celebration whatsoever. Getting the call to come pick up a box of food, bringing it home, opening it up, seeing everything you need to make a decent dinner plus some presents, and seeing my mom cry tears of mixed joy, relief, and slight embarrassment because she can't provide for her children like she wants to -- I'm grateful for all of this. We're still poor but we're no longer on a needy families list. I do all I can to make sure my brothers have an amazing Christmas (because I've had plenty of not-so-great ones) and I fucking donate money to the Salvation Army, every damn Publix and Walmart trip. I don't care what you think about the bell ringers. I don't even mind when they bless me.
In other news, pizzeria Christmas party tonight. Kinda just want to get this over with. It's at Vin's, I wish it was at Louie's or Ant's. I have to pick up DeVito after work and we'll arrive fashionably late -- the usual.
I kinda feel like this is my last pizzeria Christmas party as an employee. We'll see.
Pictures from Christmas Eve and Christmas!
So if you recall correctly, Christmas Eve is when I suffered from food poisoning all damn day. This is me feeling and looking like death but trying to look cute anyway (in reality I had just puked my brains out and then was 5 minutes away from being late for work):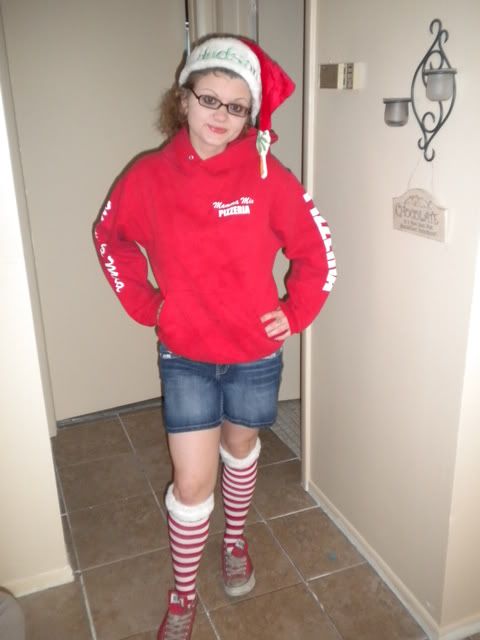 And here was the Christmas tree before my parents put presents under it (those are presents from us kids, I obviously wrapped the pink presents #itspinkfridayhoe):
kids: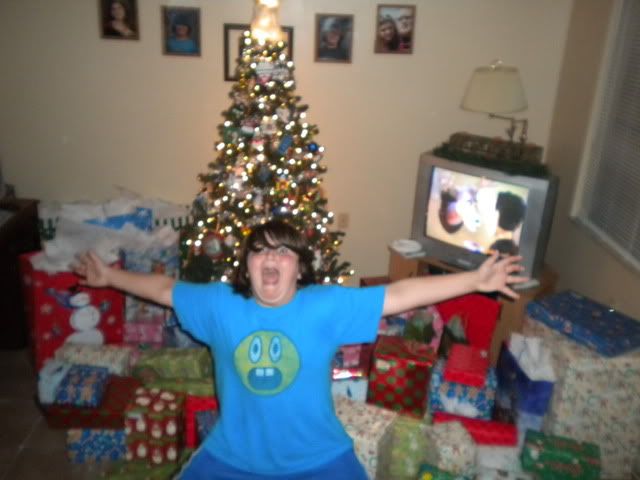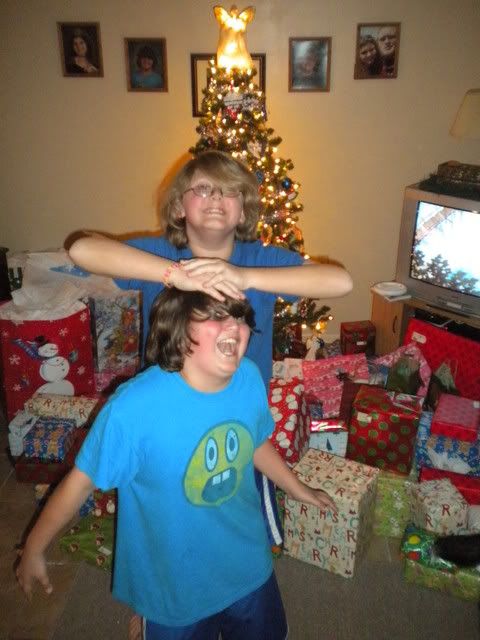 this was me eating for the first time all day lol AND SOMEONE IS BEGGING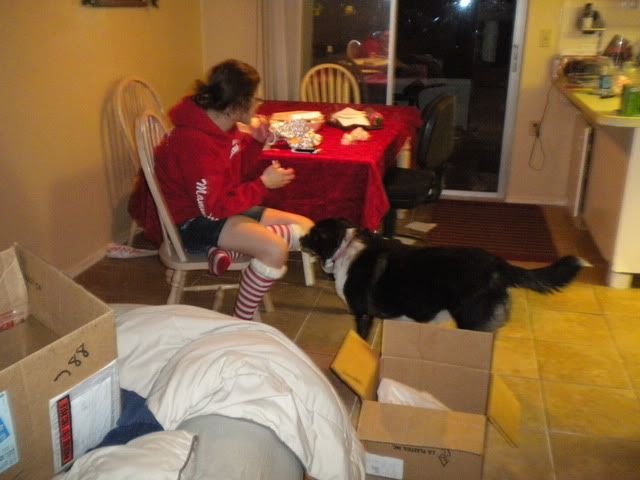 Christmas stockings :)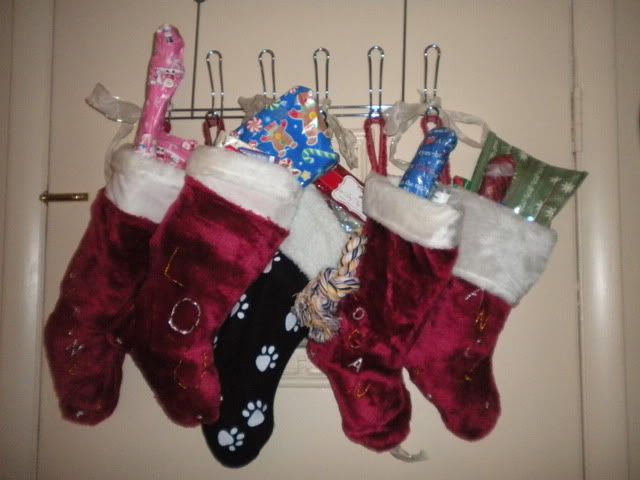 more presents: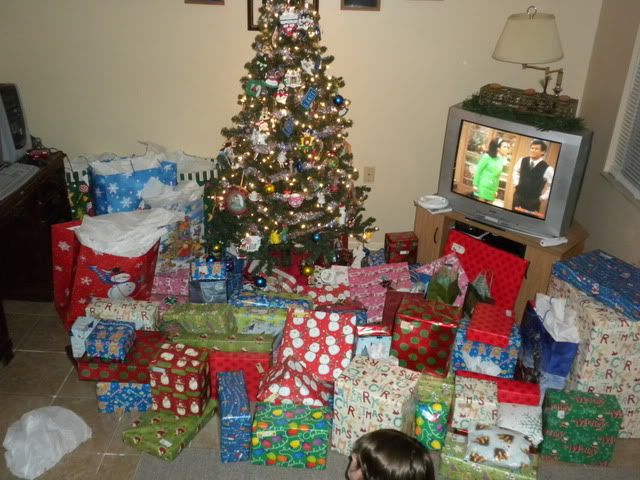 Lance's countdown: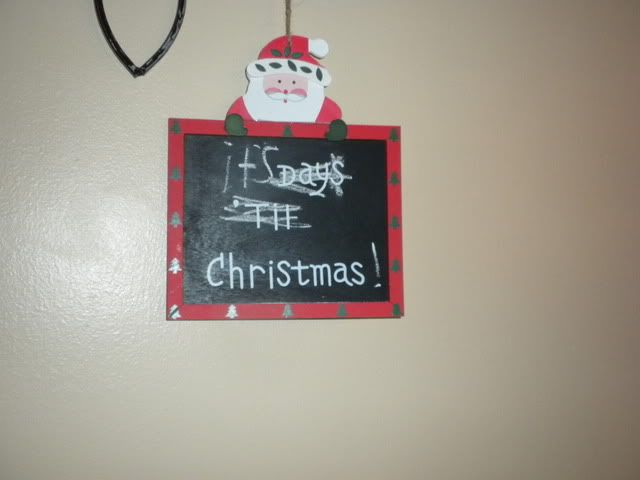 So my family stays up on Christmas Eve, and when it hits midnight, 12am on December 25th, we open presents. And that way we don't have to wake up early Christmas morning like we used to when we waited for Santa Claus!
So, chaos begins here: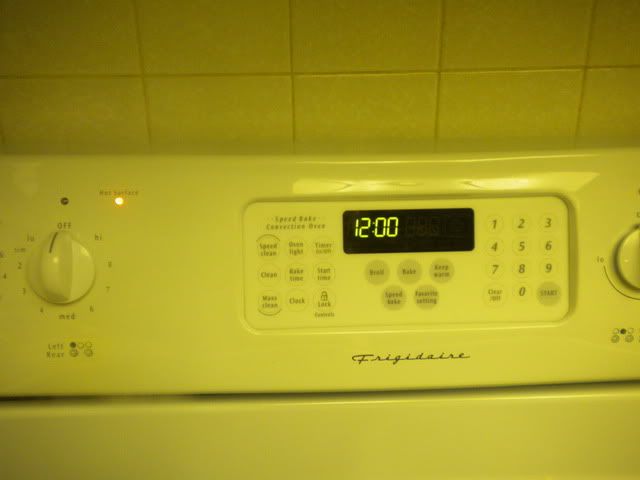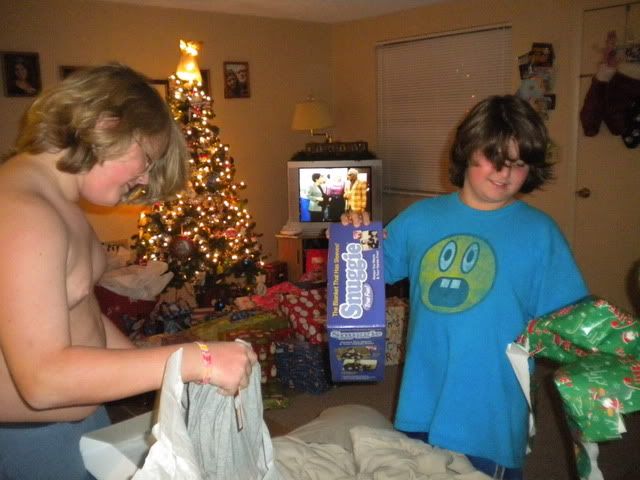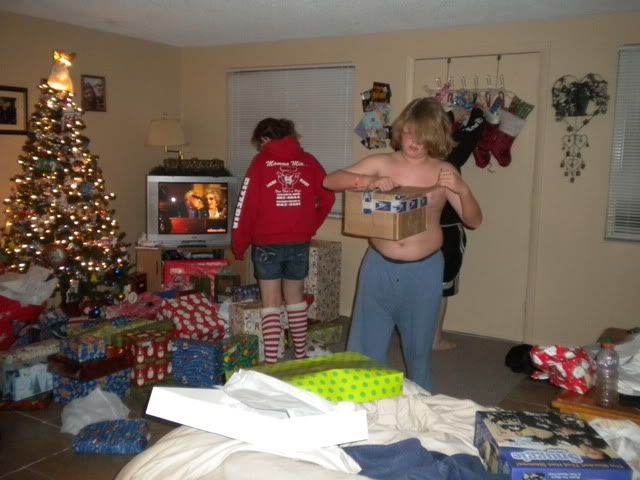 the four of us don't often take pictures together: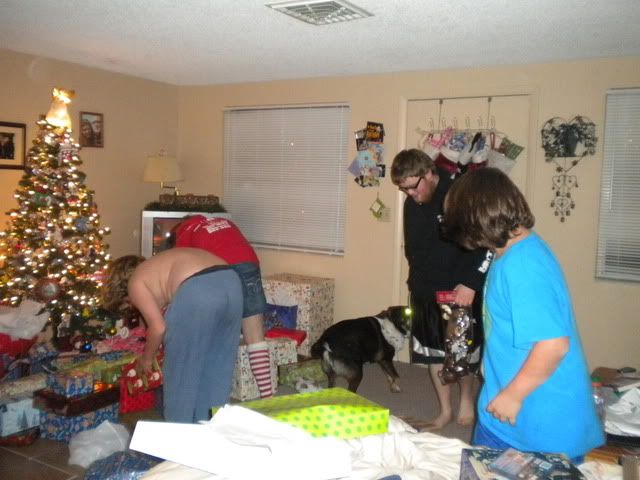 Even Buster enjoyed presents: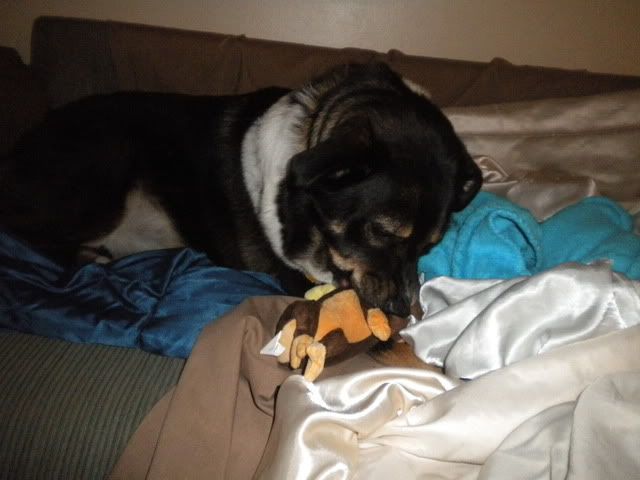 the mess afterward: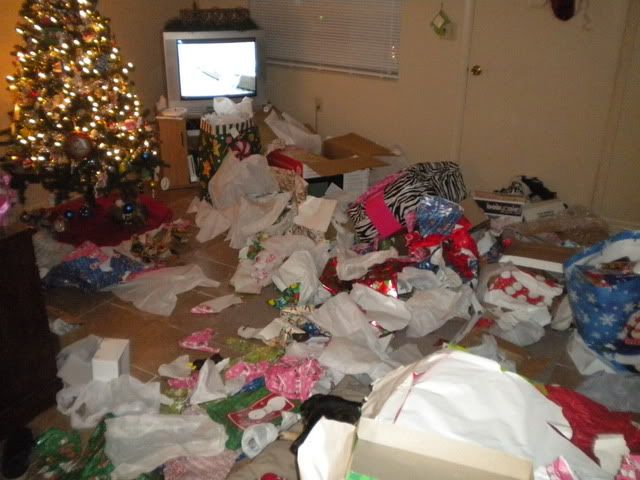 lol @ Lance wanting a snuggie so damn bad hahaha: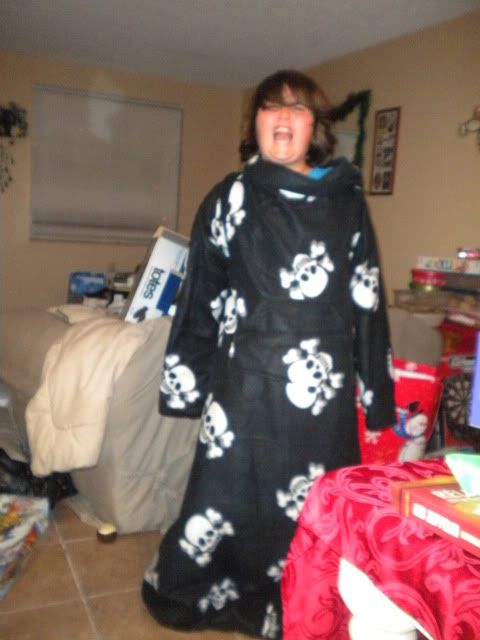 and then we go to sleep, and then good morning and say hello to my (then) brand new slippers that I wear every day now lol :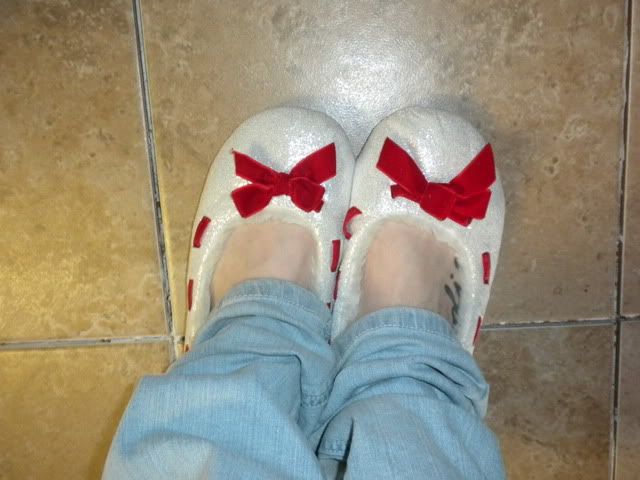 We play games together on Christmas Day . . . note how I am obviously contemplating murdering Logan in this picture, I even have the knife handy: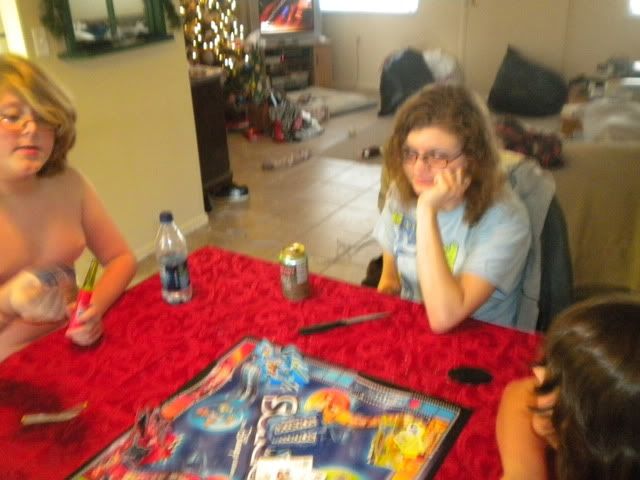 So you know those delicious Auntie Anne's mall pretzels? I don't know if you know, but they sell a "bake at home" pretzel kit . . . I thought it would be cute for us to make them at home so I bought the kit. My mom, Lance, and I made them. I don't know why or how the junkie makes an appearance in this first picture: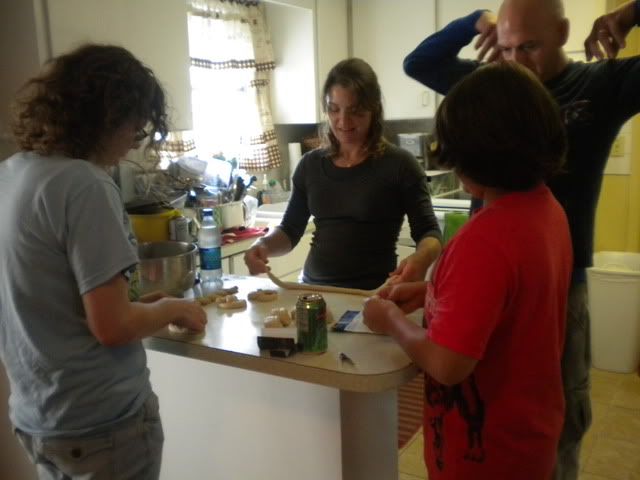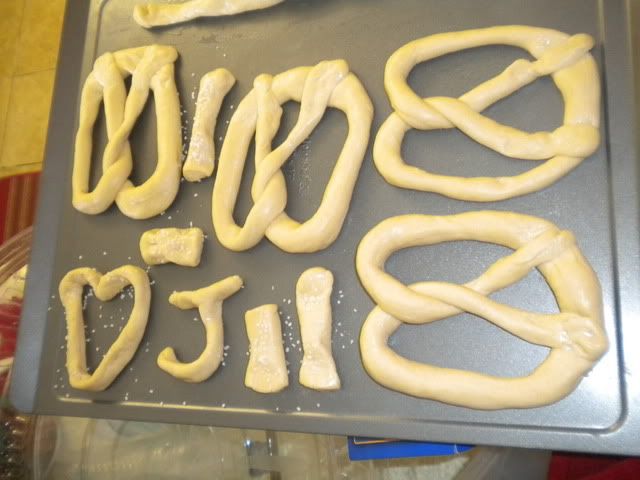 So as you all know by now, I look for any excuse to dress up :) I was originally going to be all cute and pretty for Christmas Eve but, you know, I had food poisoning and was miserable but at least I could get all pretty for Christmas dinner :)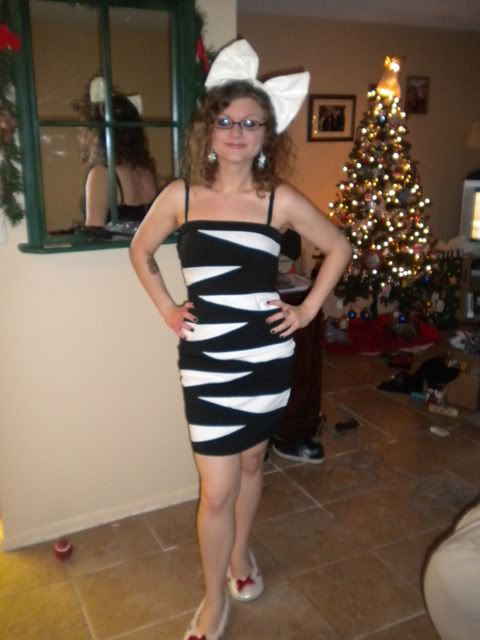 (lol slippers)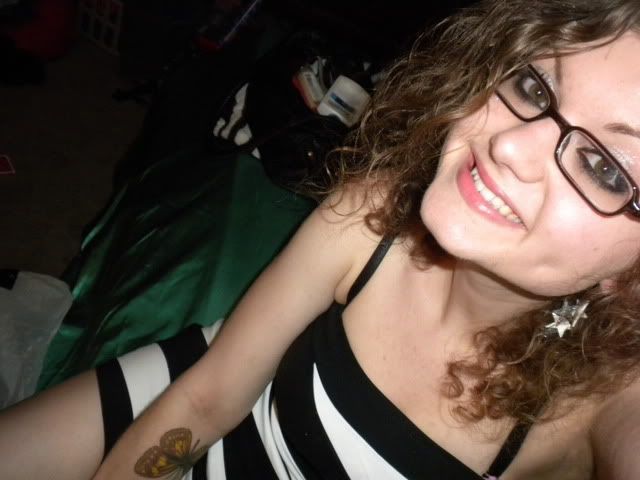 (obviously feeling much better)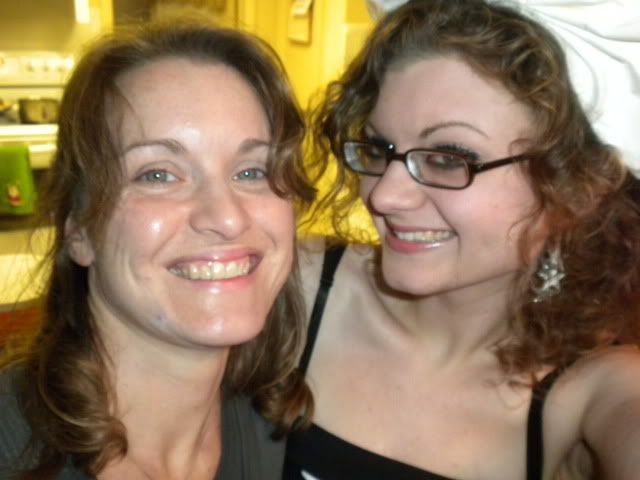 I was cold and sneaking sweets: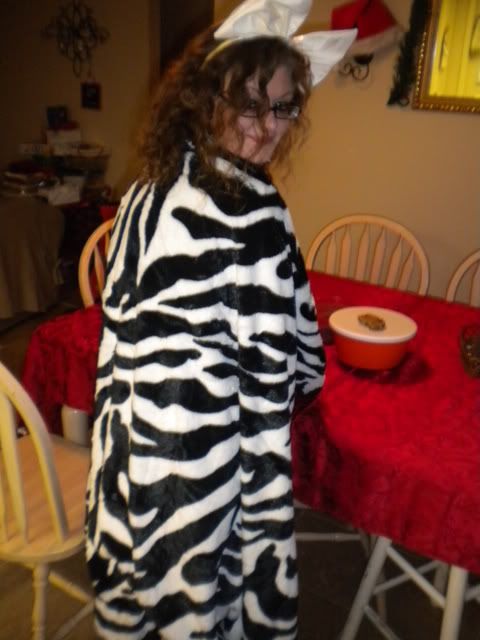 My mom's mom and grandmother stopped by to visit for some reason (but they're Jehovah's Witnesses so they did not stop by to celebrate, obviously FUCKING RIDICULOUS RELIGION I do not like to honestly insult your religion but this religion is just as whacked out as Mormonism . . . I would become a Catholic before I ever became a fucking Witness, I swear.) Anyway, since Great-Grandma Justine (oh, yes that's her name) is like 95 now or something it is pretty important to take a 4-generation picture, or something (lol at I just realized this will never happen after Great-Grandma dies because I am not having children . . . NEVER AGAIN WILL 4 GENERATIONS STAND LIKE THIS AND I AM BEYOND OKAY WITH THAT )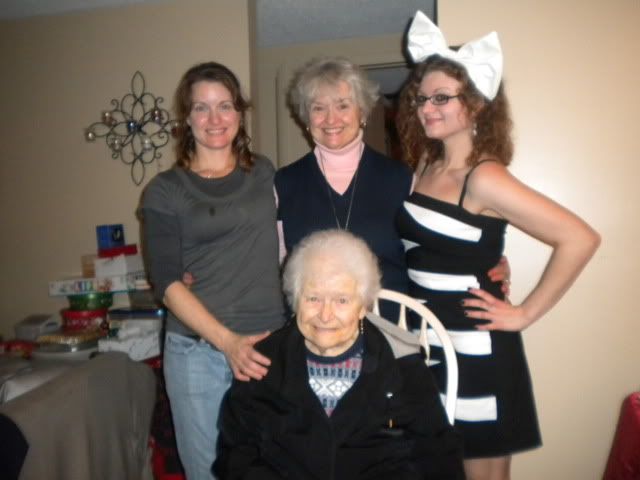 Yeah this is not the side of the family I look like, I actually look exactly like my father's mother face-wise and I hate it so much
but anyway that was my Christmas :)
Merry Christmas!
Thank goodness I had food poisoning yesterday and did all that puking because I ate so much food today. Lose weight and then gain it back, yay!
<3
My take on the "Happy Holidays" debate
First of all -- HAPPY SATURNALIA everyone!

You wish me a Merry Christmas, don't be surprised if I wish you a Happy Yule or the generic "Happy Holidays" -- it's not politically correct, it's about each other wishing happiness for the other, no matter what your faith or culture!

I don't hate anyone who is different than me, and I don't make it a practice to push my beliefs on others, but sometimes being different makes it more difficult to be on the same page with other people. The only way to land on that page together is to start opening up and create a common dialogue. When you take the time to learn about what makes each of us different and find out what we have in common, the better we can fully appreciate and respect each other. But before you can reach that understanding, you have to have confidence and self respect as well. If you worry and obsess over what to say to others, you're caring more about what they think and believe in the wrong way! To give respect, you have to have respect.

Want to grasp the key to world peace this holiday season? Don't get politically correct, don't just generically assume everyone should consider your feelings,
and don't make it mandatory that what you believe should be the universal standard! If you are truly a good, spiritual person and practice a faith that preaches good will to all, you not only owe it to your fellow human being, but also owe it to yourself to reach outside of your comfort zone and really put that good faith in practice and really, truthfully and honestly, wish with all your might and heart for a stranger to have a happy holy day (the root of holiday is holy) REGARDLESS of what you or she may or may not celebrate.
I don't have to
make
you study my religion to get you to respect me during the holiday season! I find it equally crass and rude to hit your more conservative Christian relatives over the head with a detailed description of what Pagans celebrate. However, it's equally rude for those conservative Christians to assume that their "reason for the season" is the one and only origin of the season! The celebration of Christmas has its roots deep in ancient paganism. If you want to get deeply specific about the origins of Christmas, you have to realize that Christianity is not the only religion in the world that celebrates the virgin birth of a demi-God (a son or daughter of a God) during the longest night of the year, the Winter Solstice. But I don't want to play a religiously correct who-can-piss-the-most contest during the holidays! Wicca is also about giving good will to all humans this time of year, something that everyone lacks all year long, so it is best to let someone wish me a Merry Christmas because it's the right thing to do. It's not politically correct. It's just RIGHT to let someone wish you happiness and it's WRONG to make something as simple and good as a wish for happiness into something poltical, something selfish...

When someone assumes you celebrate what they celebrate, just smile and wish them the same. Wishing someone happiness should be something that is sincere. The winter seasons are harsh. The sunlight is shorter. People are more prone to becoming depressed from lack of sunlight. To reach out to someone and wish them happiness during a normally bleak season reflects genuine good will. It's not just politically correct to be "nice" during the holidays, it's a sentiment that should be practiced all year long!

I'm not Christian and I used to hate it whenever everyone assumed I celebrated Christmas. So whenever anyone wished me a Merry Christmas, I would turn around and say "Happy Yule!" If people want to get specific about what holy day to wish for someone, I usually felt obligated to wish them MY happy holy day! *snickers*

I find it MUCH more insulting when people assume Pagans and Witches don't celebrate a holy day like Christmas. We celebrate the same essential holiday but it centers around the Winter Solstice. If you want to know more about what Yule is, you can check out the description at Wikipedia, or go here to read up on the ancient origins of Winter Solstice holiday traditions, or go to Circle Sanctuary's page on Celebrating the Winter Solstice for extensive information on today's pagan holiday traditions and ancient pagan celebrations and visit Wikipedia for information on what happens during the Winter Solstice. I don't have to go into huge detail myself about what I celebrate because in our day and age so much information is already out there. And yet each Witch celebrates the Solstice differently. Everyone has their own individual celebrations. Winter is so dull and we're all stuck indoors because it's too cold, so no wonder the season itself seems to beg us to have a party! If not to stay warm, to just keep our spirits up.


After practicing Witchcraft for 20 years, I'm no longer so sensitive about who wishes me what -- I realize that when someone wishes me a Merry Christmas it's the same thing as wishing me happiness for the season. We shouldn't have to get so annoyed or hateful or political when it comes to wishing happiness for others! It's all the same wish, no matter what the holy reason for each season. I don't like it when Christians get political about Christmas and nor do I like it whenever people push on everyone a generic holiday greeting as not just a suggestion, but as a law.

I've worked retail jobs all my life and it's never just been a suggestion, it's always been a professional policy to wish customers a generic holiday wish "Happy Holidays" because you don't want to make the assumption that everyone has the same faith or belongs to the same culture. You don't want to isolate yourself from a paying customer, you want to make their holiday shopping experience to be positive -- not just to be nice, but to make money! If a customer feels you truly respect them, they will tend to not only buy more but recommend their friends and family go to your store to recieve the same positive experience. Shopping during the holidays can be a terribly stressful time. The more you appeal to strangers and get on their good side, the more they will spend time in your store to escape the hurry-and-scurry of holiday shopping.
Also, working at retail stores that sell holiday items and candy meant getting educated about each holy day celebrated by North Americans -- there's literally dozens, if not hundreds, thousands(?!) of holidays and other special occasions to buy gifts for year round. One of the best jobs I had was at
Godiva Chocolatier! I learned that to make a big sale was to get the customer to tell me what the occasion was they were buying chocolate goodies for -- if you know more about them, the better you can individualize the sale and the customer feels you have genuinely respected them.

I don't feel ill will whenever someone wishes me a Merry Christmas and I no longer abrasively, pridefully wish them back my "reason for the season!" I think most people realize you are wishing them happiness, pure and simple, and it's meant to be a nice gesture, not a political issue.
I believe that the average person knows better anyway, that it's not that big of a deal, and yet it is a big deal to wish someone happiness all year long!



But if you really want to wish me something exoridindarily happy holiday you could say something that most pagans and non-pagans alike don't often say on the Solstice: AVE SOL INVICTUS! Meaning "Hail the Unconquered Sun!" Because after the longest night of the year, the sun is "reborn" and unconquered by the darkness -- we can look forward to the return of longer days and shorter nights -- we welcome the warmth, acknowledge that the winter will not last, and that happier, sunny days are ahead. Yay.



There should be no debate on that!
Showing 1 - 5. [
Next
]
Re: Flights of fancy - Hehehe your generalization is generally correct even if it was mildly understated ;)
© 2005-2007 MindSay Interactive LLC
| Terms of Service
| Privacy Policy